At last I've managed to send the films shot on my La Palma vacations to MeinFilmLab.de and got them back after a week. So currently I'm spending my evenings fighting the film scanner and the scan software, only to state that scanning black & white negatives is quite easy and fun, while scanning color negatives is more of a masochistic process…
At least I've found a way to get some satisfying results and will now process the seven films one by one.
Meanwhile I've tried to self-develop my second black & white film and would like to show you some of the results.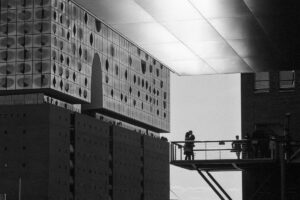 This time I shot an Ilford Delta 400, again near the Hamburg Habour City and the new Elbphilharmonie. The development recipe was quite standard (Ilford Delta 400 in Ilfosol 3, Dilution 1+14, Duration 12 minutes, Temperature 20°C).
And instead of being extremely careful with the wet film, I'd chosen a more pragmatic approach and a origami-like folded paper towel to remove the remaining drops of the watered strap. That worked out somehow and there are no flow marks or smears visible anymore.
Have fun with the pictures  and feel free to comment or give some useful hints. Some of them look very "vintage" while I must admit that the former results archived with the very expired FP4 where a bit more satisfying.